Welcome to Our Financing Department
Our finance center is standing by to assist you with all your purchasing needs. You can secure a competitive offer to finance a new vehicle, learn more about the options for leasing a car, or set up a payment plan to fund the purchase of one of our certified pre-owned vehicles.
Our finance experts understand that every customer has specific needs when it comes to finalizing your next auto purchase. They can talk you through the pros and cons of different loan deals, advise you on the best deal based on your situation, and assist with the application process.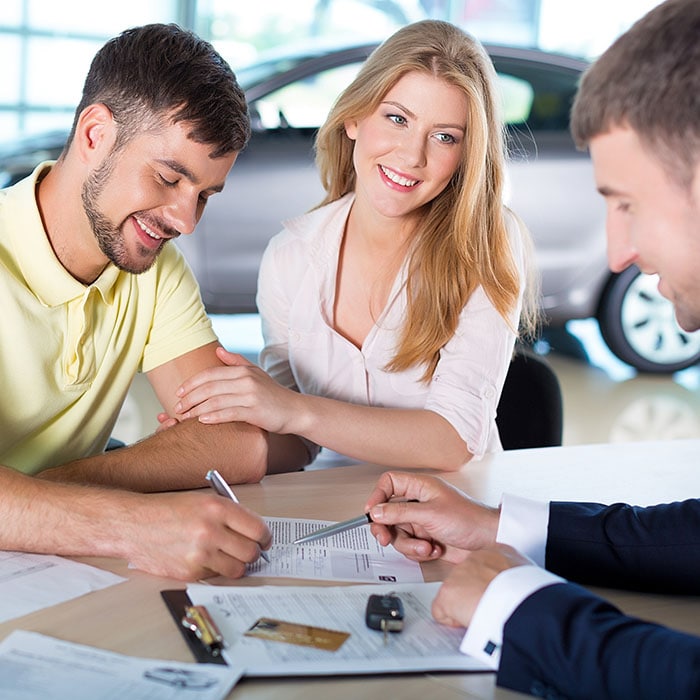 Why Should You Get Auto Financing at a Dealership?
Finding a good auto financing deal is one of the most important aspects of the car-buying process. Instead of looking for an auto loan provider yourself, you may want to consider the convenient option of just getting financing at the dealership where you purchase your car. Not only will this ensure that you'll get the key to your car sooner, but it can also help you save money in a number of ways. The following are a few good reasons why you should finance your vehicle purchase through a dealership:
Convenience
Convenience is one of the main reasons why many vehicle buyers prefer to get an auto loan at a dealership instead of a bank or credit union. If you choose to find your own auto financing provider, you'll probably have to spend a lot of time researching different lenders and comparing their interest rates and loan terms. Additionally, you have to wait for the loan to be approved, which can take a few days or more.
Getting financing through a dealership is a shortcut to owning your desired vehicle. In one visit, you can take a test drive, complete all the required paperwork, get your loan application approved, and drive your
new car
home, all in the span of just a few hours.
Easy Approval
Financial institutions like banks and credit unions tend to have stricter loan approval requirements. If your credit score is less than stellar, you'll likely have a hard time getting an auto loan on your own. In this case, you should consider opting for dealership financing.
A dealership that has been around long enough will most likely have good relationships with many local loan providers. As such, it should be able to help you find a lender that's willing to accept your application. It's also possible to
get auto financing
through a dealership even if you have bad credit.
More Flexibility
An auto dealership with a well-connected finance center not only has an easier loan approval process, but it also offers an extensive array of financing plans from many different lenders. Regardless of your preferred monthly payment or loan duration, you can easily get an auto loan that meets your specific needs. If you decide to get financing from a particular bank, you probably have only one or two types of loans to choose from and may have to settle for a less-than-ideal arrangement.
Higher Loan-to-Value Ratios
Another benefit of dealership financing is that it enables you to get a loan that's larger than the value of the vehicle you want to buy. A dealership may have a loan-to-value ratio of up to 115%, whereas a lender usually allows you to borrow at a ratio of only 90%. This is important if you don't want to make a substantial down payment or haven't paid off the loan on your current car.
Negotiable Interest Rates
Since dealerships specialize in auto financing, they know which lenders offer the lowest interest rates. As such, they can be more flexible when it comes to determining your rate. If you aren't happy with the original interest rate quote, the dealership may be willing to help you locate a lower rate as a way to provide a better overall car-buying experience. Banks and other lenders that provide loans as part of their day-to-day tasks may not have the time or resources to find the best interest rate for you.
Promotional Deals
Dealerships offer many
promotional deals
throughout the year. Besides special deals on vehicles,
auto services
, and parts, they also provide discounted or factory financing with lower interest rates or longer loan terms. Getting one of these deals can significantly reduce your overall cost of buying a car.
Auto Leasing
Other than getting an auto loan, you also have the option of leasing a vehicle at a dealership. Leasing is becoming an increasingly popular choice among car shoppers because it offers a number of great benefits. In most cases, a lease comes with a much lower up-front cost because it often doesn't require you to make a down payment. It also results in monthly payments that can be more than 50% lower compared to purchasing a car.
If you opt for a 36-month or shorter lease, you'll typically have a valid bumper-to-bumper manufacturer's warranty for the entire duration of your lease. In some cases, you may get free maintenance for one or two years. Another thing that makes leasing an appealing option is that it allows you to drive a new vehicle once every two or three years. This means you'll always be able to enjoy the latest automotive technologies.
Get Your Ideal Auto Loan at Herb Easley Volkswagen
At Herb Easley Volkswagen, we understand that buying a vehicle is one of the biggest financial decisions of your life. Getting the right auto loan can significantly lower your overall cost of ownership and help you achieve financial peace of mind. Our finance experts have extensive experience working with vehicle buyers from all walks of life, so they can assist you in choosing a financing solution that fits your unique financial circumstances. They can also provide you with sound advice if you want to refinance an existing loan, secure a loan with bad credit, or lease a vehicle.
Regardless of your auto financing needs, you can count on the finance team at Herb Easley Volkswagen to go the extra mile to help you get the best possible car loan.
Contact us today
to speak with one of our friendly and helpful finance experts.